Ideas


I am talking about the window that pops up when you click the name of your current Animation clip, when you want to switch to another one.
When I am working with a big project with say 80+ animations the list gets very long and unhandy. When I have to do a pass on all of the clips to add animation events for example or just change a small thing in every animation the process of switching to the right clip is very slow.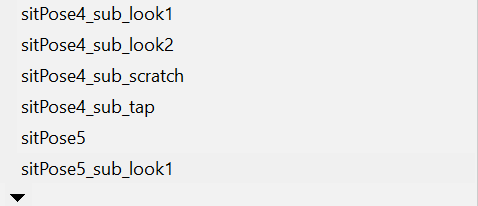 I think part of the reason is that this window doesn't have a scroll bar and the scroll wheel also doesn't work for me (at least on windows, on mac the scroll seems to work). The only way to scroll further down is to click down on the tiny arrow and the list slowly advances. When working down a long list from top to bottom this process becomes even slower because when opening the window the list doesn't focus on the currently open animation clip but always goes back to the top.
So a reliable way to scroll with the scroll wheel and a scroll bar plus remembering the last selected position in the list would be a great improvement for larger projects I think. I hope I explained it well enough!
Keep up the great work and thank you for this plugin!
Unity Version:
2019.2.0f1