Ideas

Gonna hit all social media with feature videos and tutorials
These are primarily tiny workflow features and QOL improvements

Let's get this out of the way first:

"Q" should be the default for "Select" the way "W, E and R" enable the other ones. This shortcut is heavily used because frequently the manipulator tool will be in the way of selecting things. We always keep a finger on "Q".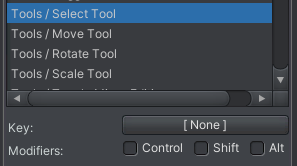 It would also be nice to be able to save your preferences to a file.

These are the impovements, some of them I've mentioned before:

Filter to show selected objects only 
Select keyframes under slider of selected objects
Skip to Next/Previous keyframe of selected object
"Set FK to IK" Bake Start/End
I'll give detailed explanations with screenshots tomorrow or soon
Unity Version:
2021.3.11f1