Bugs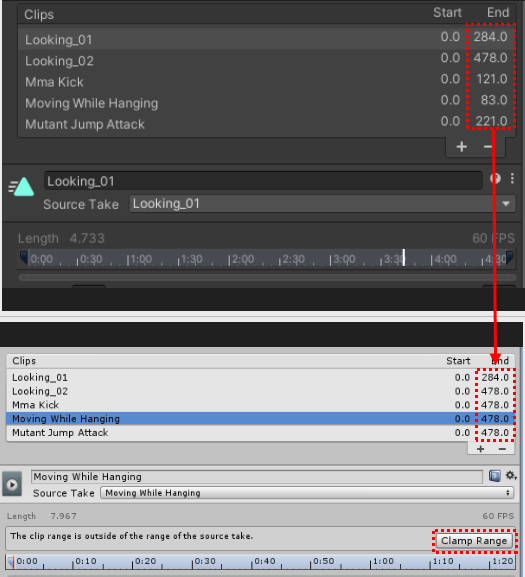 Hello.
I am the user who asked the question related to the "no to all" button yesterday.
I have another question.
I noticed that the length of the animation clips in the exported FBX file is not reflected when imported into another Unity project or Maya.
Binary/ASCII 2010~2020.. doesn't matter.

As in the image, when importing, only the length of the first animation clip is reflected normally, and the rest is applied as the length of the second clip.
In other Unity projects, I figured out three workarounds to make the animation clip in this FBX the same length as the original.

One can select the clips one by one and then press the "Clamp Range" button to set them to their original length.
The second is to export as "one file per clip".
However, it is inconvenient to have to open fbx files one by one to ctrl+D to edit the corresponding animation clip in another project.
The last method is to copy the FBX file with ".meta" file from the original project in File Explorer and paste it into another Unity project.
This method normally imports the length of all clips in the imported FBX file. (Obviously this would not be possible in the autodesk "FBX review".)

So, what I am wondering is, when FBX is imported as all clips in one file, is there a way to keep the original clip length without having to copy the ".meta" file along with the FBX file to another project?
(*I have confirmed that Unity's "FBX Exporter" does not have this length issue)
Thank you!
Unity Version:
2021.1.15f